The Spring Tango in Auckland Milongas for 2018 will be on 16 to 18 November.
Save the dates for November 2018…
Similar format to 2017 with 4 Milongas and visiting DJs.
Great package deal $95.00 per person for the whole weekend.
Contact Denise if you can host or need to be hosted in Auckland…
The 2017 Festival details below will be updated as everything is finalised.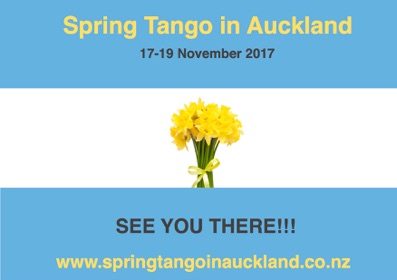 Friday 17 November
Jubilee Hall, Parnell Community Centre
545 Parnell Road, Parnell
8pm – midnight
$30, BYO, Soft beverages, snacks provided
Welcome Elegant Milonga
DJ Pedro from Sydney
Well known to Auckland Tangueros the beautiful Jubilee Hall in Parnell will host our welcome milonga.  Catch up with your tango friends from other centres who have made the journey to Auckland.  This relaxed milonga is BYO and we'll supply some nibbles and great music to keep you dancing all night!   Ample safe parking available around the back of the building.
Saturday 18 November
Auckland Art Gallery
Corner Kitchener and Wellesley Streets

2pm – 5pm
DJ Kelly from Auckland
The stunning Auckland Art Gallery will host our 1st Milonga on Saturday!  Come early to have a look around the latest travelling collection at the Art Gallery which also hosts the best collection of local art in NZ and currently the Corsini Collection.  There is a fabulous semi-outdoor cafe also at the gallery so why not have a bite to eat here and really make a day of it.  Then you can slip into your tango shoes and dance the afternoon away with music supplied by our local tanguera, Kelly.  Wear something bright and cheerful and while away the afternoon in artistic style.
Saturday 18 November
Jubilee Hall, Parnell Community Centre
545 Parnell Road, Parnell
8pm – midnight
$45, BYO, Complimentary Sangria, cakes,  fruit platters, door prizes
THEME: Glitz & Glamour
DJ Debs from Christchurch
Our DJ tonight promises to keep you dancing all night and while you indulge in great music sample some of our complimentary homemade Sangria and beautiful fresh fruit platters.  A small selection of red and white wines will be available to purchase at $5 a glass for those who don't want to BYO. Dress up to the Nines!
Sunday 19 November
Grey Lynn Community Centre
510 Richmond Rd, Grey Lynn
2pm – 5pm
$25
THEME: Spring!
DJ Iain from Wellington
We farewell our tango friends at this our final relaxed milonga.  Wear something bright and flowery fitting of a Spring day!  That includes you too guys – love to see some of those gorgeous floral shirts. Feel free to bring a wee plate to share, soft drinks, nibbles  and water provided.