Following their tour of New Zealand & Australia in 2018, New Zealand, New Caledonia and Australia are teaming up together to bring both Dante Sanchez & Indira Hiayes back in 2019!
There will be performances, private lessons and workshops at every stop on their tour, bringing all those inspirational Youtube clips to LIFE!
During Dante's solo tour in 2017, he taught in Auckland, Wellington, Christchurch and Tauranga; he become the main talking topic amongst the New Zealand dancers and his direct and no nonsense approach were surprisingly well received and respected! His popularity also attracted dancers from as far afield as New Caledonia. Local organisers had to turn down requests for private lessons as they were completely booked out, with dancers who were on the waiting list hoping for a cancellation!
In 2018, Dante's return with Indira wowed the audiences with their stunning performances in New Zealand and Australia.
This year, all private lessons will have both Dante (Teacher) and Indira (Teaching Assistant), which is great news for male leaders who aren't fans of dancing with other men! Reservations for NZ are now being taken so book early to avoid disappointment!
About Dante Sanchez

Dante Sanchez is one of the most internationally renowned and respected Tango Dancers, Teachers and Mentors. So much so he was a judge at the World Tango Championship (El Mundial de Tango) and, since 2014, at the Metropolitan Championship in Buenos Aries.
Dante started studying Tango at the age of 10, dancing at various folklore and tango festivals and competitions all over Argentina.
He moved to Buenos Aires from Patagonia when he was 18 years old and was taught by Carlos and Rosa Perez. He also started dancing with Ines Muzzopappa and less than a year later they entered the Metropolitan Championship of Buenos Aires, finishing in second place. Later that year they were crowned World Champions in the Tango Salon category at El Mundial de Tango in Buenos Aires, one of the worlds most important tango festivals and championships. He was only 19 years old.

Since then, he's appeared in a number of shows including 'Tango y Nada Mas' by the Tango+Tango company and 'Tango Porteño'. In April 2017 he was invited to perform with the very well known and respected Maria Nieves at a prestigious event in Buenos Aries. He was also invited to perform for the President of Switzerland, Doris Leuthard, in 2017.
His in-depth knowledge, reputation and passion for Tango along with his teaching ability has made him one of the most sought after Mentors for both local Argentinean and international dancers and stage performers of all ages.
He's often invited to teach in Europe, Asia, America and Australia as well as participate in prestigious festivals.
In January 2016, at the age of 28, he opened his own Tango Studio in Palermo, Buenos Aires called 'Dante Sanchez Estudio' where he gives classes and organises seminars with many renowned tango teachers.
In January 2018, he has been appearing in Señor Tango, the largest show in Buenos Aires.
In 2017 & 2018, his tour to New Zealand and Australia (in 2018) wowed dancers from across the country and from as far afield as New Caledonia. His private lessons were fully booked throughout the tour with many on the waiting list hoping for a cancellation. He created a lasting impression on many people and we're sure they'll do the same this year.
About Indira Hiayes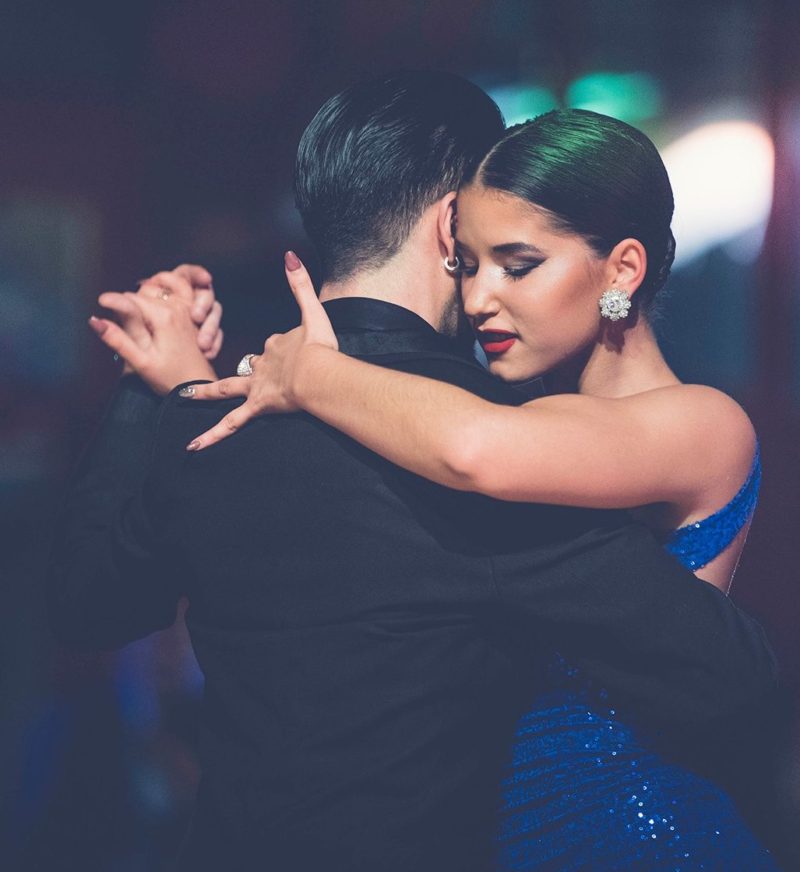 Indira Hayes took her first steps in Tango at the age of 9, in one of the most renowned dance schools in the South of Argentina. Her motivation to learn and talent for Tango lead her to take part in numerous shows throughout Argentina and South America as well as winning many competitions. Following that she was privileged to take part of Argentina's most important festivals, "Cosquín" and "Jesús María".In 2015, at the age of 18 she moved to Buenos Aires to keep learning Tango and soon became Dante Sanchez's dance partner. They began performing in Buenos Aires' most renowned Milongas, including Salon Canning, Club Gricel, El Beso and La Viruta where her captivating movement and energy wowed the crowds.
In January 2018, Indira has been partnering Dante Sanchez in the show Señor Tango in Buenos Aires.
Since January 2019, together with Dante, she has been touring Europe and participate in prestigious festivals.
Dante & Indira's movement in New Zealand, New Caledonia & Australia
Location
Date
Auckland
27th September to 2nd October
9th to 16th October
Wellington
3rd to 8th October
New Caledonia
17th October to 10th November
Australia
11th November to 15th December
Dante & Indira's Workshops in Auckland & Wellington
There will be Milonga, Performances, Workshops & Guided Practicas! So, check out our Auckland Tango Calendar for more information.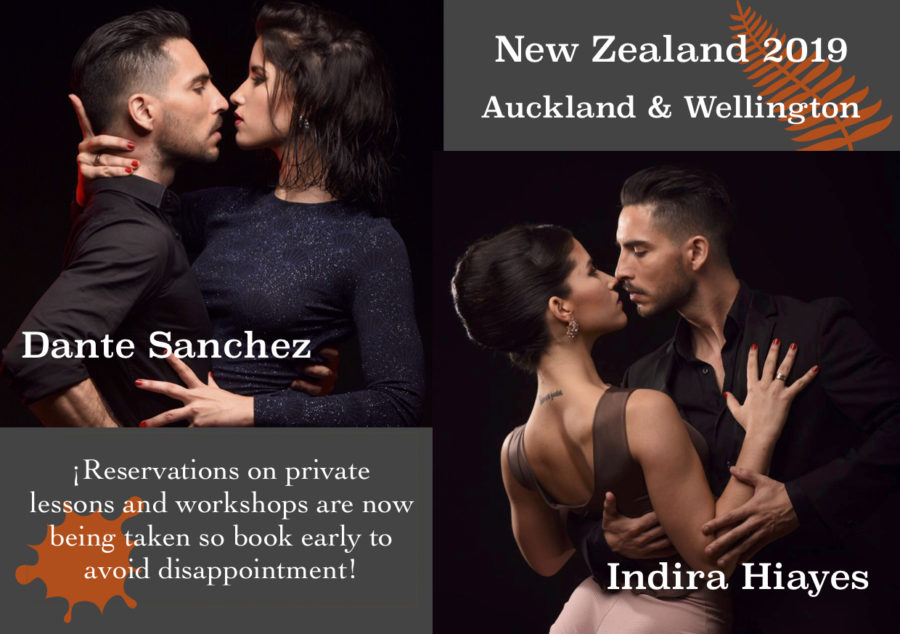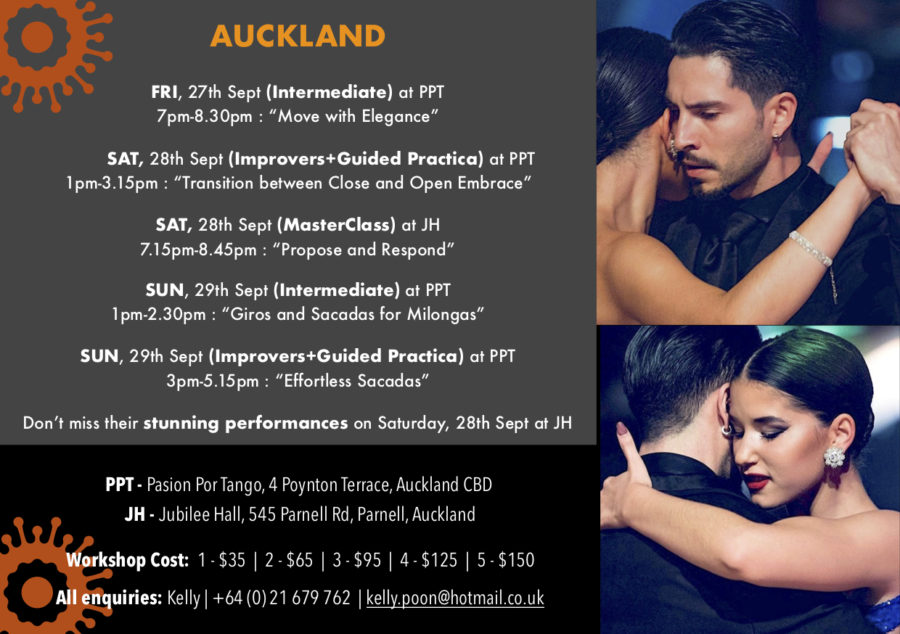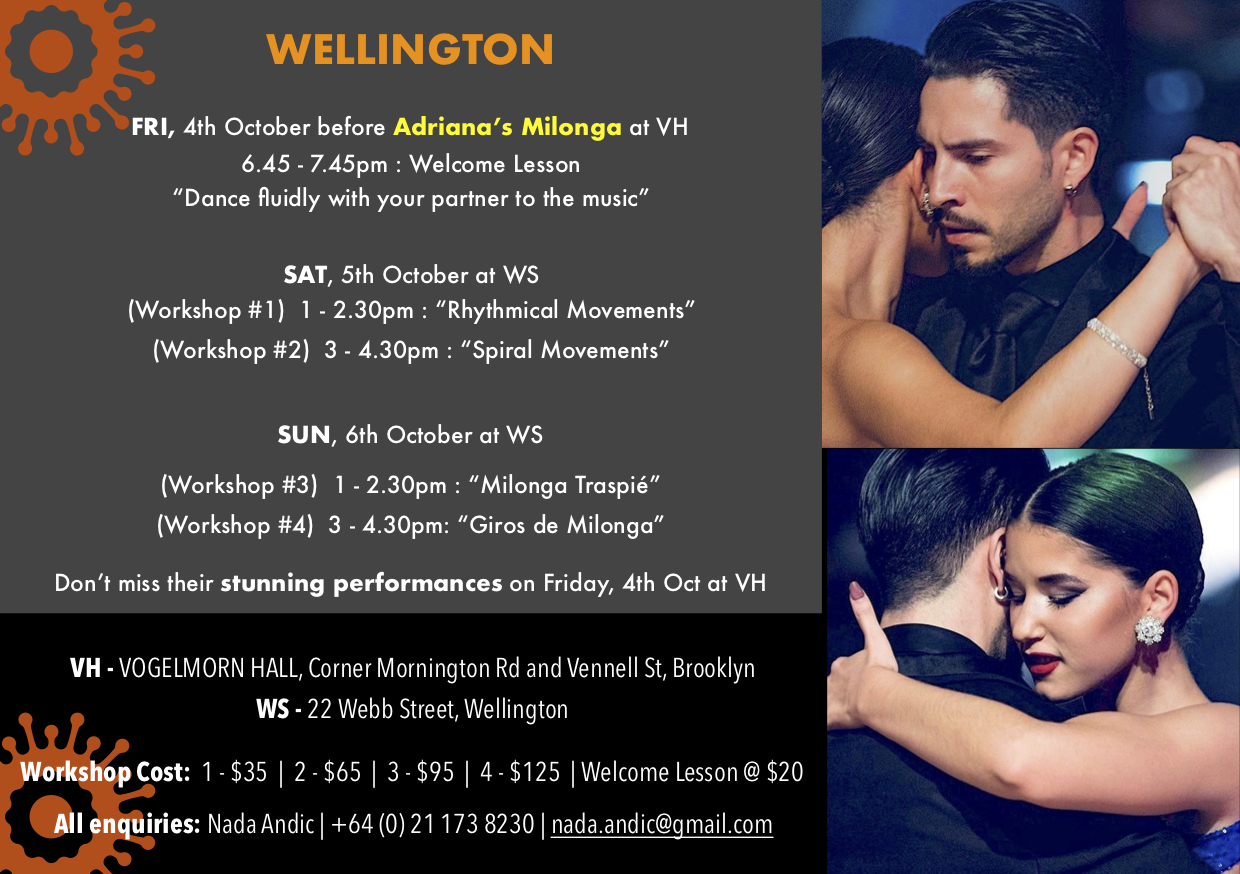 What our friends said
Joan Juana (OZ): "Many times when I was in Buenos Aires, I saw women, famous figures in tango scream and almost weep with emotion after he danced with them. He has magic; during his classes, he tries to impart his magic to his students, in the embrace, the walk, the connection, the musicality. He dances his tango into me, he makes me walk and move to his perfection. So, that is why after 9 years, I still follow him, as his student and his friend. For his magic."
Mostafa Hamidi (NZ): "It is a pleasure to hear Dante will come to Auckland in 2018. I had the opportunity to take a few private lessons during his last visit and boy; he knows tango and how to teach it! I could significantly improve my basics and highly recommend his private lessons to other fellow dancers in NZ."
Federico Remualdi (Uruguay, was in NZ): "Dante's style was nurtured by the best old milongueros. This is GREAT NEWS for New Zealand dancers!"
Hilda Yuan (NZ): "I was very lucky to have some lessons with Dante during my last visit to BA. Whilst he is a very renowned and well-respected dancer among local and international tango communities, he is also a great teacher. His teaching is structured and precise. I particularly appreciate his genuine feedback and instructions during the lessons, which greatly enlighten area I need to work on as well as understand how to."
Michiko McDowell (NZ): "He's the best teacher I've had. I enjoyed all his private lessons and learnt so much from him. I like his style a lot."
Kelly Poon (NZ): "He improved my leading and advanced my following. Once you have one private lesson you'll certainly be back for more because he is precise, observant, able to explain and show you ways to improve your dancing. His group classes are well structured and he pays attention to each student. He is a very strict teacher but patient, fun and encouraging. What I also like about Dante is that he is humble, has a genuine passion for Tango, huge respect for the old milongueros and shares all he knows with you. After five years of being his students, he has also become a friend and a mentor."
Videos