A fun milonga in the covered outdoor amphitheatre.
This event is on rain or shine.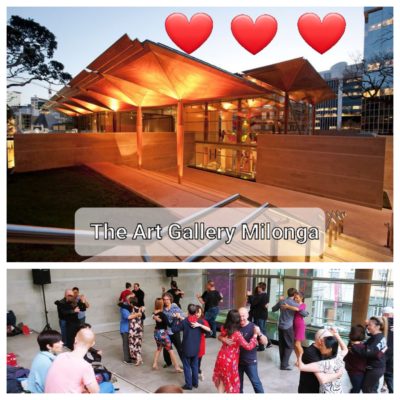 ~ How to find the Auckland Art Gallery Amphitheatre? ~
Facing the main entrance of the Art Gallery from the outside: Walk up the stairs on your left, then continuing onto the second set of stairs on your right towards Albert Park (the Art Gallery's coffee shop is also on your right). You will come to an open area under a beautiful roof where you can view inside of the Art Gallery, that is the Amphitheatre.
~ Useful things to know ~
Footwear:
We dance on smooth concrete; you can wear heels, normal shoes, trainers, sandals etc whatever you feel comfortable in.
Things to bring:
There is a cafe inside the Gallery which you can purchase beverages (Note: it closes at 5pm), bring your own if you're planning to stay until the end. Bring a blanket to sit on the raised concrete sitting.
Toilet:
You can use the toilet inside the Gallery, bearing in mind that the gallery closes at 5pm.
Parking:
Please see below abstracted from the Auckland Transport website (https://at.govt.nz/driving-parking/find-parking/parking-in-central-auckland/)