When:
December 9, 2016 @ 7:00 pm – 9:00 pm
Pacific/Auckland Timezone
2016-12-09T19:00:00+13:00
2016-12-09T21:00:00+13:00
Where:
AUT City Campus, WC Building
55 Wellesley St E
Auckland, 1010
New Zealand

Contact:
Kelly, Sheldon & Rhonda
021 679 762



Guided Practica
7pm ~ 9pm
One of our teachers will be on standby to answer any questions and keep a close eye on YOU!
 ~~~ Story of ATSA ~~~
Welcome to the Argentine Tango Student Association (ATSA)!
 I'm Fritz, currently a second-year student in Bachelor of Creative Technology. This ATSA club was founded by Sheldon, Kelly and me; the idea is to create an association/platform that allows students all over Auckland to learn, practice and share Tango!
Never thought I would ever dance in my life until half way through the last year in high school; when I accidentally walked into a Tango Practica (a session where people practice their tango). Two years later I thought Tango is one very interesting thing that happened to me so…I thought you might like it as well (?)
~~~ ATSA Presidents ~~~
Rhonda Lynn Khorasanee (Current)
Natasha Dikstaal (2017)
Fritz Tsai (2016)
~~~ About the Resident Teachers ~~~
~~~ Guest Teachers ~~~
Dante Sanchez (The World Champion & Judge at the World Championship)
Federico Remualdi (One of the semi finalists of the World Championship)
~~~ Where is the Studio? ~~~
The AUT studio is located where it's marked "Friday 19.00-21.00 AUT GYM WC building"
Follow the 'Yellow' strip on the map below off Wellesley Street (opposite Princes Street), you will come to an archway on your left; turn left after the archway, you will come to a glass sliding door in front of you to the University Gym; enter you will find the studio on you left.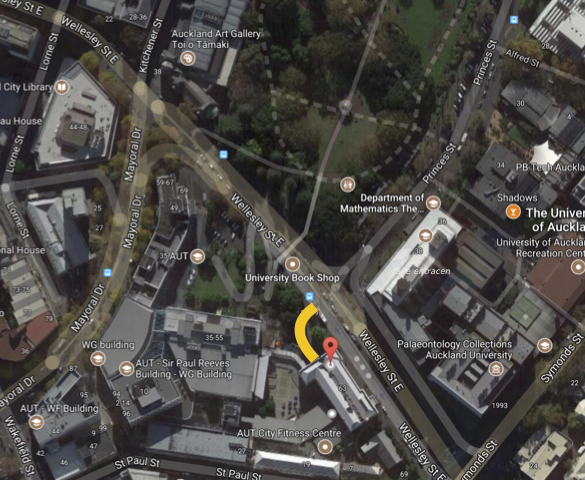 ~~ Parking ~~