This is a safe, spacious hall with a great wooden floor available to you to practise your class material and to build confidence before committing to the Milonga floors. Supervision or feedback is available on request; please ask me if something is not working for you and I may just be able to help!
Basic tango, vals and milonga music is played to maximise your dancing time. We encourage you to come along and join us for this weekly practica.
All enquiries, and for private lessons, contact Denise on 027 77 444 75.
All levels welcome; lots of safe off-street parking behind the hall.
See you there!
Denise and Mark.
Special Milonga Class with Horhe Amparado 18 March
'Enjoy Milonga' – Revisit and refresh your Milonga!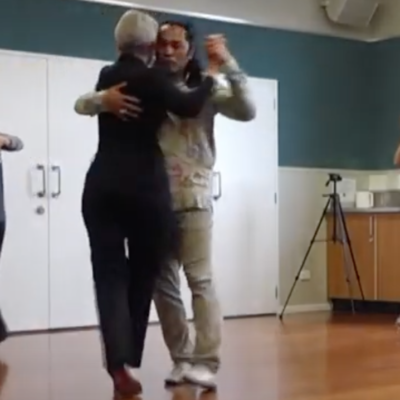 This is an exciting, distinctive style of dance using greater relaxation of legs and body. The music is generally quite fast in 2/4 timing so the style and 'steps' need to be suitably adjusted to be danced to the sometimes complex and syncopated rhythms. Over the coming weeks, we will listen to different milonga tracks, learn the differences of dancing Milonga Lisa and Milonga Traspie and how to make the most of the milonga experience in a social situation.
Class 7:30pm – 8:20pm $10.00 per person
Venue Tango Mahi SideRoom
Practica 8:30pm - 10:00pm $5.00 per person (for class participants)
Tango Mahi Practica only from 7:30pm – 10:00pm as usual, same time, same place, $8.00 per person