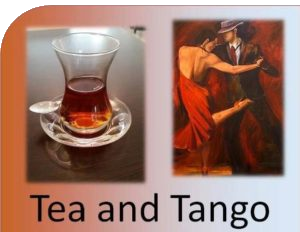 16 February is the third Sunday this month and that means …
TEA and TANGO!
Auckland DJ star MAIDA Zanaboni Doleman — by popular demand — is back!  Don't miss this Sunday's T&T!
Regrettably Tea Chef David is off in the country somewhere, fishing with his brother who's visiting from overseas.  So we'll have to settle for the second best tea in Auckland this month unless someone of equal calibre steps up on Sunday.
Last month's T&T was special indeed with Helen Guang making her fabulous Auckland DJ debut, and Ulli's authentic Zwetschgentorte (Plum Cake) along with Blueberry Cake, Meringue Caramel Slice and Chocolate Chip Cookies from Chez Ballard.  Then out of the blue Neville Waisbrod from Wellington showed up with his SLR, steady hand and artistic eye and made 78 of us look like movie stars.  If you haven't seen fabulous Neville's photos, go have a look by clicking on his name above!
What will be in store at Tea & Tango this month?  Come and find out.  We're looking forward to welcoming you on Sunday!