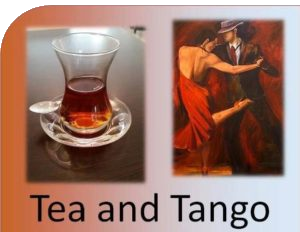 19 January is the third Sunday this month and that means …
TEA and TANGO!
Hearty thanks to the many who made last month's T&T such an outstanding success, particularly Nic — on the sound board — and those who surprised us with superlative cakes: Marinella who brought a matchless Matcha Ice Cream Cake, and Angelika with an exquisite Christmas Stollen.  What a treat!  We also enjoyed yet again the best tea in Auckland with Tea Chef David!
In January we're kicking off the year with a very special event, welcoming the fabulous HELEN GUANG for her… AUCKLAND DJ DEBUT!
A Tango dancer for 8 years, Helen was a teacher in Christchurch and both hosted and DJ'd for Y Tango Milonga. Now, she's come to live in Auckland — a cause for celebration in and of itself for those of us who have danced with her! Come along and welcome Helen to her first public appearance as DJ in our community!
But wait, there's more! Tea Chef David also will be back on the 19th, working his magic as usual and delighting us with his humour and sunny personality.  All told a special afternoon. See you there!