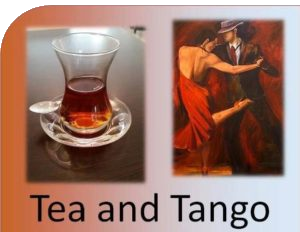 15 March is the third Sunday this month and that means …
TEA and TANGO!
NIC IS BACK on Sunday, and that means great dance music!
Don't miss it!
Our once-a-month Sunday afternoon fun Milonga was made great last month with the ever-popular Maida at the turntables (figuratively) and Ulli in charge of the food and drinks — which included a wonderful Cherry Torte (+ Blueberry Crumb Cake, Almond Slice and Afghan Biscuits from Chez Ballard), Grapes, Watermelon and… a fabulous Fruit Punch! 御馳走様!  Thanks heaps too, to Michiko and Mark as well as Ulli for helping out. 
What's in store on the 15th???
Sadly last month Tea Chef David was off fishing, but this month he'll be back in full swing… and wielding a shiny new tea pot.
Ha ha!
An afternoon of fun and enjoyment and meeting up with lovely friends.  Join us on Sunday at 4:30!