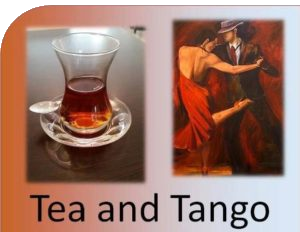 After four years hosting Tea and Tango, Nicole and Denise are retiring from this popular event.
"Both of us are stretched with work and other commitments, so, with some regret we are passing this place in the Auckland Tango Calendar to John Ballard. Thank you John for taking this on and making it your own.
Tea and Tango was started several years ago by Marion whom many of you will have known and loved. Nicole and I hope we did the brand justice and that you all enjoyed this monthly tango experience. We certainly did enjoy baking for you and seeing you all having a wonderful afternoon of dancing, socialising and of course, enjoying afternoon tea!
Thank you so much to everyone who supported our event over the years, not least the willing and enthusiastic DJs who provided great music for us all, and the cakes and baking from others who helped out when we were stretched.
It may be that John will adopt his own format and flavour so Nicole and I wish him and his helpers all the very best.
I encourage you all to keep going on this third Sunday each month to enjoy this opportunity to relax and dance together!
Abrazos
Denise and Nicole