REVISED! REGISTRATIONS FOR ALL MILONGAS NOW CLOSED
Tres amigos were sitting around the other day. Hmmm, we said. If there's not going to be an International Tango Festival this year, why not invite everybody here!!  ...for a weekend of fun, dancing and warm embraces.  And thus was born the great . . .

Auckland Tango Experience Weekend
Friday - Sunday 28 - 30 May 2021
4 milongas in 3 days. Beautiful followers and experienced leads. 
Fabulous, fabulous DJs.  Our most beloved venues and talked-about milongas.
All that's needed is YOU!
Friday night

¡Milonga Otra Vez!

9 pm to 1:30 am, Jubilee Hall, Parnell  
If you like a big fun party where food isn't a priority, Auckland's biggest and best monthly milonga at the gorgeous (and large) Jubilee Hall (BYO) will be waiting for you! Organised by Kelly and Sheldon, and featuring New Zealand's prize DJ Stephan
---
Saturday afternoon

Art Gallery Milonga

2-5 pm, Auckland Art Gallery Amphitheatre 
This laid-back milonga is run by the same organisers as ¡Milonga Otra Vez! but in contrasting style, and will show you how to 'recharge' for more to come! An occasional and always beloved outdoor event, hosted under the rain or shine canopy of Auckland's magnificent Art Gallery backyard amphitheatre, and featuring long-time Tango-Exciter DJ Sheldon
---
Saturday night

Happy Tango

7:30 to 11:00 pm, Royal Oak Bowls Club
A special version of Michiko's famous Pop-Up Milonga, held at the large and inviting Royal Oak Bowls Club, which features a beautiful dance floor, spacious seating, lots of parking and even a cash bar. (BYO not permitted.) Hosted by one of Auckland's most avid tango promoters and featuring "keep 'em dancin'" DJ Kelly

---
Sunday afternoon

Tea & Tango

2-6 pm, Royal Oak Bowls Club
Say good-bye in style to all your friends with a special four-hour version of John's once-a-month milonga, now moved to Royal Oak Bowls Club, which with its verdant bowling lawns will have a different feel in the daytime.  Cleverly arranged to start earlier and located in the central suburb closest to the airport for those catching flights.  Enjoy the cash bar or wait for a sampling of baked goods, tea & coffee at 4 pm.  Features the incomparable DJ Helen
---
NEW: Price for all four milongas: $45 + 1x gold coin donation on the day
Travel, transport and accommodation: own arrangements
Get to know different parts of Auckland this trip!
Heaps of restaurant options in every locale!
Extend your stay to include Denise & Mark's stupendous Practica on Thursday night! (pay as you go basis)
---
We kind of think we're a charming and welcoming lot here in New Zealand's largest city.  The Auckland Tango Experience Weekend gives you a chance to sample the dancing and camaraderie we are lucky to experience on a regular basis, and gives us a chance to show there's always room for a Tanda with visitors to our fair town.
We welcome YOU!  Help us make an occasion of these four strategically-organised events in three days.  We look forward to seeing you – for what promises to be a weekend to remember!
Tres Amigos:  Kelly : 021 679 762 | Michiko : 021 292 8436 | John : 021 074 3412
---
TIMES, LOCATIONS, COSTS



28 May 9 pm to 1:30 am ¡Milonga Otra Vez! | DJ Stephan | Jubilee Hall, 545 Parnell Rd, Auckland 1052 | Organisers Sheldon / Kelly | $15
29 May 2-5 pm Art Gallery Milonga | DJ Sheldon | Auckland Art Gallery Amphitheatre, 1 Kitchener Street, Auckland CBD | Organisers Kelly & Sheldon | Gold Coin
29 May 7:30 to 11 pm Happy Tango | DJ Kelly | Royal Oak Bowling Club, 146 Selwyn Street, Onehunga  | Organiser Michiko | $15
30 May 2-6 pm Tea & Tango | DJ Helen | Royal Oak Bowling Club, 146 Selwyn Street, Onehunga  | Organiser John | $15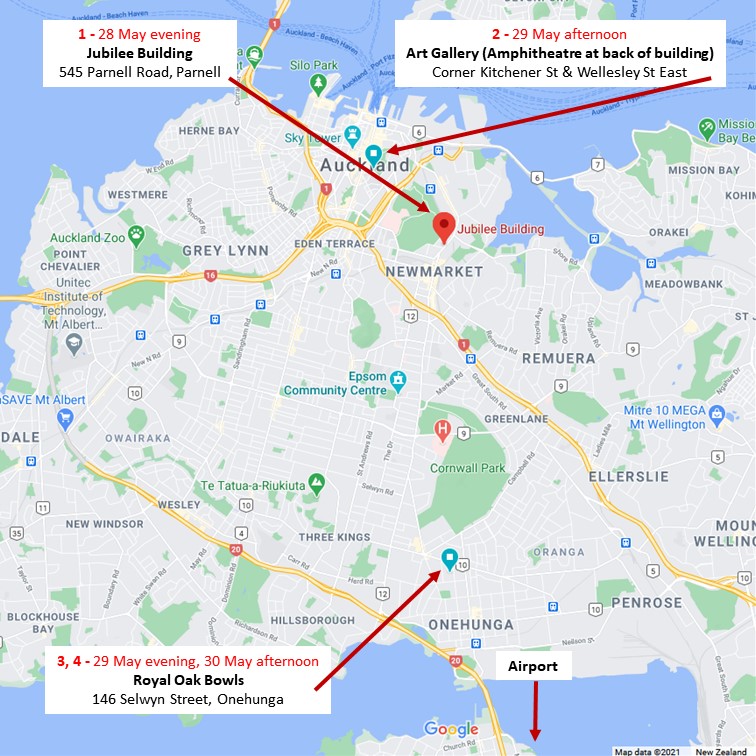 REGISTRATION
So sorry!  We've reached capacity and registrations for all four milongas is now officially closed.
We're pleased however that we found space for everyone who registered or was on a waiting list.  If that's you, expect an email from us with details.
If you missed out and would still like to come, let us know of your interest by emailing the organisers on aucklandexperience@aucklandtango.co.nz. We won't be maintaining waiting lists, but may be able to offer some piecemeal options when we get your message.
Thank you for this overwhelming response!
Looking forward to seeing a great crowd of Tangueros from all over New Zealand at the end of May!
---
Contact: John: aucklandexperience@aucklandtango.co.nz | 021 074 3412