NOVEMBER 5, 6, 7
AUCKLAND
FRIDAY 5TH
18:00 RANI'S WORKSHOP
21:00 WELCOME MILONGA - DJ HELEN
22:30 LUIS & ANA PERFORMANCE
SATURDAY 6TH
15:00 LUIS TABERA'S WORKSHOP
16.30 CARLOS TABAREZ'S WORKSHOP
21:00 MILONGA - DJ STU
22:00 MILONGA DE CUATRO LIVE MUSIC
23:00 MATTHEW & KATERINA PERFORMANCE
SUNDAY 7TH
14:00 MATHEW'S WORKSHOP
17:00 FAREWELL MILONGA - DJ MARTYN
Workshops are for 80 minutes
Friday and Saturday milongas 9:00 to 12:00 - Sunday milonga 5:00 to 8:00
ORGANISERS - LOCAL MAESTROS
ORGANISERS
Hi tangueros, we are Marta and Ernesto, an Italian and an Argentinian who happened to meet each other in a Milonga in Barcelona and suddenly fell in love. Tango is a part of us and comes with us wherever we go. In this second year of Covid we decided to run a festival and we would like you to join us as a big Tango family! A great opportunity to share and learn from our local maestros and artists. Let's do something different, have fun and keep Tango growing in New Zealand as one big community! Abrazos!
LOCAL MAESTROS
LUIS TABERA & ANA REZZANO'S WORKSHOP"


"Tango fundamentals, how to create an elegant and dynamic embrace through different steps and combinations in a milonguero style"
Luis Tabera, born and raised in La Plata, capital of Buenos Aires province, has been dancing tango for over 20 years, being part of many festivals as dancer and organizer. One of the most skillful and musical dancers that we have in NZ these days. His teaching method is meticulous, attentive to details, precise and therefore very effective. Luis was trained by old milongueros and prefers a close embrace style, improvisation and has a vast vocabulary. He believes in a strong and solid fundamental basis to enjoy simple dancing as well as to be able to build on to the more complex moves.
There will be a performance by Luis and Ana on Friday.
CARLOS TABAREZ'S WORKSHOP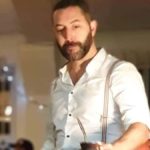 "Connection and smoothness on your move throough one of the most famous steps"
Carlos Tabarez was born in Montevideo in 1980. His milonguero style is well known in Auckland where he's been teaching for the last 3 years. A master eye for details in a very dynamic class is his signature, always creating a relaxing environment full of fun where you will learn from someone that feels the roots of tango. Have fun is a must!  All levels welcome!
RANI'S WORKSHOP


"Simplifying the technical creation of pretty feet on the dance floor. As dancers, many might take a second to admire beautiful attire worn by the performers, but you're most likely going to spend most of the time looking at their feet. Let's give them something to look at!"
For Rani, being a dancer of many different styles since she was a young girl, dance has been the preferred method of self-expression for most of her life. In 2008, she was introduced to Argentine Tango which brought this self-expression she enjoyed so much to a whole new level. She immediately fell in love with Tango, has crossed international borders just to experience this beautiful art form in other parts of the world, and will be a forever student to what she calls, 'El Baile de mi Alma.'
MATHEW'S WORKSHOP


"Spine Vertical: a simple rule - almost. With its application in off-axis moves down to side steps."
Matthew Civil has been dancing tango since 1998 and had a passion for continued learning and teaching the understanding of tango. His goal is to foster tango dancing throughout New Zealand and to that end he has been touring New Zealand. Matthew has spent 6 months training in Buenos Aires – most recently in March and April 2018.
LOCAL DJs
LIVE MUSIC
GENERAL INFORMATION - REGISTRATION
VENUES
Workshops - Northcote War Memorial Hall. 2 Rodney Rd, Northcote Point.
Milongas - Mt Albert War Memorial Hall. 773 New North Rd, Mt Albert
DRINKS BYO
Snacks and Argentinian empanadas will be provided
Argentinian food truck Saturday and Sunday
ENQUIRIES
Via Facebook messenger @tamakitangofestival
Via e-mail Tamakitangofestival@hotmail.com
Via txt/call 021 434 508
PRICES AND REGISTRATION
Single workshop: $25 per person
4 workshops: $85
Friday milonga: $15
Saturday milonga: $20
Sunday milonga: $15
3 milongas: $45
All events (4 ws + 3 milongas): $120
REGISTRATION