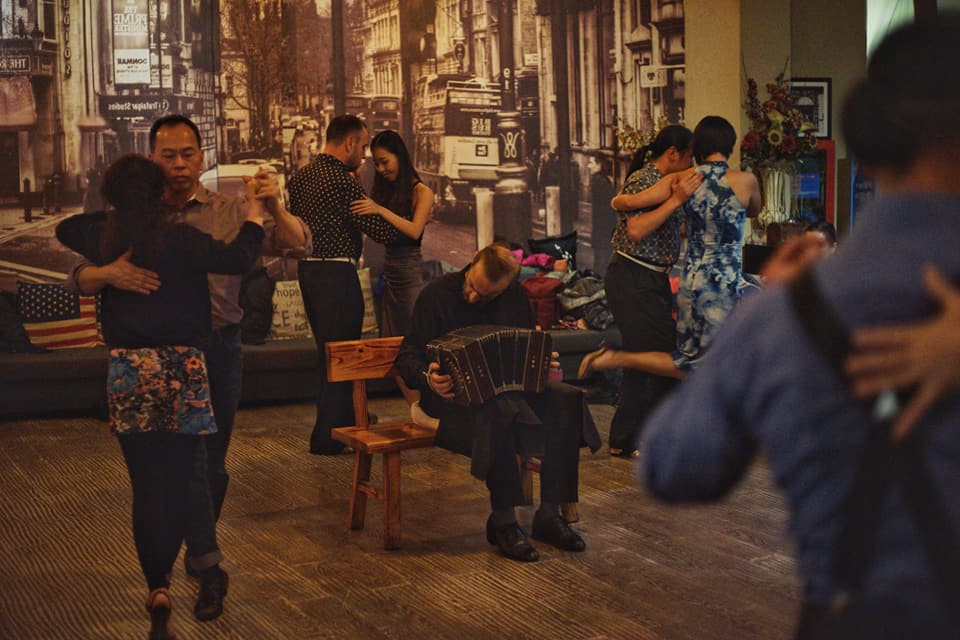 Joaquin Amenabar's Musicality Workshops for Tango Dancers
12 - 15 September 2019
W1 – ESSENTIAL UNITS OF TANGO RHYTHM
Simple, double and half-time steps and when do we use them.
W2 – DANCING THE MELODY (Level 1)
Understanding the melody as a key rhythmical factor in Argentine Tango. The important element in dancing social tango. Where melody can drastically influence and change the rhythm.
W3 – VALS vs TANGO
Rhythmical units of the Argentinian Vals in comparison to Tango rhythm. Similarities and differences. Simple and double time in vals.
W4 – MILONGA (Level 1)
The difference between double-time and traspie. Placing single time and double time in milonga. Rhythmical units of the Mionga versus rhythmical units of Argentine Tango. Dancing the melody in the Milonga.
W5 – SYNCOPATION (Int/ Adv level)
The ability to improvise - Advance in improvising to the melody and rhythm with tangos that have syncopation, 3-3-2 syncopation and off beat. Equal number of leaders & followers are required for this class.
COST PER WORKSHOP
1x Workshop - $45.00 per class
2 – 3 Workshops - $40 per class
4 – 5 Workshops - $35.00 each class
5x Workshops - $170.00
============================
VENUES:
W1 – 6.00pm to 7.30pm
Thursday, 12th September 2019
@ Sacred Heart Church Hall,
24 Vermont Street, Ponsonby, Auckland City
--------------------------------------------------
W2,W3,W4,W5 – Various times
Friday, 13th - 15th September 2019
@ Viva Dance Studio,
10 Newton Road, Grey Lynn, Auckland
--------------------------------------------------
Map for venues
• Appropriate for All Levels of dancers.
By design, the Workshops are fully accessible to beginners + newcomers ... while at the same time, they are challenging + informative to more experienced dancers.
• Aimed at dancers.
The Workshops are not "lectures" on music theory or history — we will be on our feet and moving most of the time.
• No partner required.
The primary emphasis will be on individual work — moving in time with particular sounds, aspects, elements, and features of the music.
• No special training or background in music is necessary.
The Workshops are Hands-on or rather Legs-on ….. "non-theoretical" — Joaquín uses common everyday language, clear metaphors, and unique visual aids to enhance our investigations.
• Both "live" and recorded Tango music.
In addition to narrating our guided listening + movement to "Golden Age" classics, Joaquín will play live on his bandoneón to help illustrate + highlight key features of the music.
• No "steps" or patterns.
The concepts, processes + examples explored are universally applicable in all Tango situations that we encounter as both Leaders + Followers — useful for everything from "simple" walking + turns ... to the most intricate + complex combinations that we might create on the improvised social dance floor.
W1 – Thursday @ 6.00pm - 7.30pm
W2 – Friday @ 7.30pm - 9.00pm
W3 – Saturday @ 11.30am - 1.00pm
W4 – Saturday @ 2.00pm - 3.30pm
W5 – Sunday @ 11.30am - 1.00pm
Joaquin Amenabar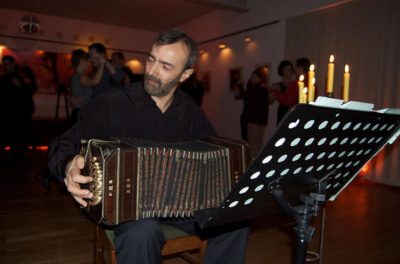 Widely celebrated as a "modern master of the bandoneón," Joaquín Amenábar is a multi-faceted and supremely talented "Renaissance Man of Tango" — performer, orquesta leader (Orquesta Tipica dela Guardia), composer, arranger, music professor, writer, historian, lecturer, instrument tuner + technician. Even more significantly, Joaquín is an active social tango dancer.
It was the social dancing part blended with his own deep knowledge of musical performance, history and composition, that led him to investigate a number of challenges that many of us tango dancers face daily:
• How to learn the music If we do not have the benefit of formal music training then ...
• How can we as tango dancers take in, process + respond to the many layers, subtleties + nuances of tango music ...
• In ways that help us create, discover + explore our own unique dance more effectively ...
• And then share it with each other as we improvise together on the social dance floor ...?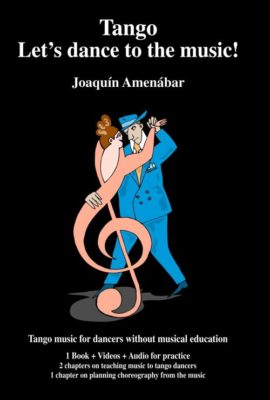 The result is Joaquín's book 'Tango: Let's dance to the music' but also unique and highly innovative program on Musicality for Tango Dancers that took more than 10 years to develop to it's current perfection. Joaquin has been teaching and travelling back in early 2000s in Europe, Asia, USA and Australia and New Zealand.
In addition to music and tango, Joaquin is very fluent in English, Spanish, French, Italian, German & Portuguese, which allows him to communicate more directly with more dancers around the world.
"Anybody can teach you a step, but it takes a different kind of teacher to help you find your musicality"
---
For more information

Contact: Cecile
---
Joaquin's Auckland workshops are being held in parallel and in conjunction with the Tango Rendezvous Festivalito