Tango Mahi Practica – Tanda of the Week – Instrumental tango compositions and recordings by Carlos Di Sarli.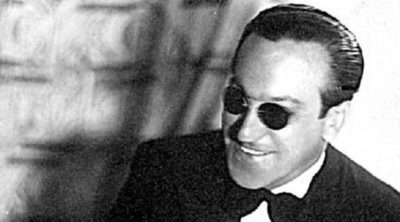 Carlos Di Sarli was an accomplished classical pianist who developed into a brilliant tango pianist, composer and bandleader, and one of the most legendary tangueros.
When checking out Di Sarli and his music, I was surprised that I could find only two instrumental tangos that he had ever composed and recorded! For the Tanda of the Week, I had to choose between adding a Di Sarli instrumental composition recorded other than by Di Sarli, or adding a Di Sarli vocal tango. I chose the latter.
_____________________
Di Sarli moved to Buenos Aires in 1923 as a 20 year old, played in Fresedo's orquestas in his mid-20s, then formed his first sextet at the age of 25 to play in a style that evolved during his time with Fresedo, drawing on his own ideas as well as Fresedo's expertise, input and encouragement.
He had composed his first tango, titled "Meditación", before he arrived in Buenos aires but it was never recorded by Di Sarli. Over the years it has however been recorded by Fresedo, Canaro and several lesser-known orquestas and musicians.
Di Sarli's sextet became very popular; recording 50 tracks from 1928 to 1931. Of these, only one (a vals entitled "Rosamel") was a Di Sarli composition (with lyrics by poet A.T. Oro). The other 20 vocal tangos, 28 instrumental tangos, and one vals were covers of recordings by other orquestas, played in Di Sarli's emerging distinctive orchestration and style.
In late 1931, Di Sarli left his sextet, leaving its other members to perform live as "Sexteto Di Sarli", and later as "Orquesta Típica Novel" before Di Sarli returned in 1936 as pianist and leader. No recordings at all were made by any of these groups from 1931 to 1939.
In 1938 Di Sarli was introduced to Héctor Marcó; a poet, actor, guitarist, composer and vocalist. Di Sarli knew of and was impressed by Marcó as the composer and lyricist of several successful songs including "Alma mia" (a vals that Di Sarli had in his orquesta's repertoire and later recorded), and "Que nuncio me falte" (recorded by Tanturi, Laurenz and others). Di Sarli invited Marcó to create lyrics for a composition he was developing, and within minutes of hearing it played, Marcó declared it would be called "Corazón" and soon after came up with the lyrics which Di Sarli loved.
Di Sarli recorded "Corazón" in 1939 as the orquesta's first recording under a new contract, and it was a huge success. Di Sarli and Marcó proceeded to enter into a collaboration which lasted for the next two decades during which Marcó provided the lyrics for nearly every Di Sarli composition that Di Sarli recorded.
It wasn't until 1940 that Di Sarli made his first recording of a self-composed instrumental entitled "Milonguero Viejo / Fresedo". This name was an acknowledgement of Fresedo's contribution to Di Sarli's development as a pianist and arranger. It took another 17 years (till 1957) before he recorded his second and final self-composed instrumental "Bahia Blanca". He did however, re-record "Milonguero Viejo" again in 1951 and in 1955.
It would seem likely that many of his other compositions including "Corazón", "En un beso la vida", "Bien frappé", "Nido gaucho", "La capilla blanca", "Porteño y bailarín", "Así era mi novia", "Cuatro vidas", "Tangueando te quiero", "Por qué le llaman amor", and "Juan Porteño could nearly all have been enduring instrumental hits if Di Sarli had have recorded them as instrumentals, but he presumably thought they were all better as vocal recordings for him to have recorded them as such, and to have split the royalties on these with Héctor Marcó.
For the tanda I have chosen the only two instrumentals that Di Sarli composed and recorded (i.e. "Milonguero Viejo" and "Bahia Blanca"), then added "Corazón", which would have been an instrumental but for Héctor Marcó's huge input. Corazón was chosen in a toss up with the recordings of one of the other orquestas' recordings of "Meditación".
"Milonguero Viejo"
"Bahia Blanca"
"Corazón"
Here are three videos of maestros dancing to the chosen instrumentals:
Michelle Marsidi & Joachim Dietiker dancing to "Milonguero Viejo".


Chico Frumboli & Juana Sepulveda dancing to "Bahia Blanca".


Luna Palacios & Javier Rodriguez dancing to "Corazón".