Tango Mahi Practica – Tanda of the Week – Tango recordings by Francisco Lomuto y su Orquesta Tipica with vocals by Fernando Díaz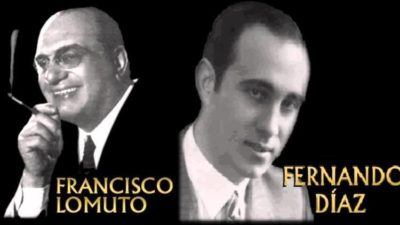 Francisco Lomuto was born in 1893, so was in his mid teens when the earliest tangos were played in Buenos Aires. He was nine years younger than Roberto Firpo, five years younger than Francisco Canaro and Vincente Greco, and three years younger than Carlos Gardel; all four being significant contributors to the birth and development of tango.
Lomuto's parents were musicians who encouraged their ten children to play music. Francisco, their eldest, learnt piano from his mother before attending a music conservatory briefly.
At age 13 he composed his first tango, titled "El 606", then on leaving school, worked in a music shop for several years as a pianist, playing newly-issued sheet music that customers were considering purchasing. Through his late teens and early 20s Lomuto wrote many tangos, which he gave to well-known musicians and orquestas (including Firpo and Canaro) to perform and record; his aim being to gain recognition as a composer.
His first big breakthrough was his composition "Munequita", premiered by then-well-known actress María Luisa Notar in 1918, and subsequently recorded by Carlos Gardel and by Orquesta Tipica Select in the United States.
Lomuto had been contemplating forming his own orquesta with himself on piano but decided he didn't yet have sufficient skills to be successful, so instead he reached an agreement with his friend Francisco Canaro to play in Canaro's orquesta for no remuneration, effectively as an apprentice. He also formed a duo to play gigs, and worked as a backing pianist on a radio station, before forming a group that played music on a cruise ship for several years.
In 1923 at the age of 30, Lomuto decided to abandon his aspirations of playing piano in an orquesta tipica, in favour of setting up, managing and leading (but not playing in) his own expanded orquesta. He proceeded to form a large orquesta to play tango and jazz music for dancers, mirroring the structure and innovations of the Canaro orquesta, including having instrumentation extended to brass, woodwind and percussion sections, and recruiting the best available pianist and other musicians he could find.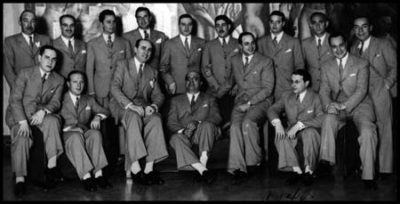 In 1926, talented 16 year-old Daniel Alvarez was recruited to play bandoneon and to take over from Lomuto as music arranger. When Alvarez left in 1933, Martin Darre replaced him to take over the first bandoneon and arranger roles.
The band strove to be, and was, very popular with dancers and the general public, there being no aspirations for the orquesta to take tango in new innovative directions, such as was being done by De Caro or later by D'Arienzo, Di Sarli, Troilo, Pugliese and Piazzolla.
As well as composing music, and leading and managing his orquesta, Lomuto worked with Canaro to promote the formation of an organisation to protect the copyright and other rights of music composers. SADAIC was eventually created in 1936 with Lomuto as inaugural president.
Over three decades, the Lomuto orquesta played at the best venues in Buenos Aries, appeared regularly on radio, released over 600 recordings, toured throughout Argentina and to Europe, and appeared in shows and films including the film "El Alma del Bandoneon", in which Lomuto directed 100 bandoneons on the stage of Teatro Colón.
The orquesta's vocalists included Charlo (1928-1932), Fernando Díaz (1931-1935 then 1939-1943) and Jorge Omar (1935-1943).
For the "Tanda of the Week" I have chosen three songs from the 1940-1942 period with Fernandeo Diaz on vocals. I could find very few video clips of dancing to the chosen songs.
Mi Reflexion ("My Reflection") – Song and lyrics composed by Lomuto. Also recorded a year later by the Canaro orquesta. Dancing by Lucila Cionci and Joe Corbata:

La Gayola (Lunfarda slang for "The Prison") – Song composed by Rafael Tuegols with lyrics by Armando Tagini. Previously recorded by Carlos Gardel in 1927. Dancing by Carlos Urrego and Cindy Lopez:

Riendo ("Laughing" … to stop me crying) – Composed by Alfredo Malerba and Mario Maurano with lyrics by Rodolfo Sciammarella. In 1940 Lomuto was the first to record Riendo. The only subsequent recording was by Alberto Moran in 1956. Dancing by Laly Victoria and Leandro Haeder:

————————-
A subtle technical insight: As was the case with many other tango orquestas, Lomuto's orquesta nearly always adopted consistent signature endings for tangos, as to rhythm and relative chords. Lomuto's signature tango endings were "CHAN – chan" precisely on beats two and three (not unlike most other orquestas) but with a raised tonic note in the typical dominant "CHAN" chord to turn it into a diminished 7th chord, resolving to a quieter minor chord that emphasised the third interval in the chord for "chan".

By way of example, a song with a final chord of Dm (with notes D, F, A) would typically have the penultimate "chan" chord as A7 (with notes A, C#, E, G), but Lomuto's signature replacement "chan" chord would be A#dim7 (with notes A#, C#, E, G) resolving to a Dm (with notes voiced to have the F note above the D and A notes).