Tango Mahi Practica – Tanda of the Week – Tangos by Orquesta Tipica Osvaldo Pugliese with vocalist Alberto Morán.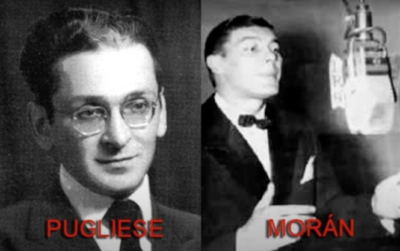 Alberto Morán (real name Remo Andrea Domenico Recagno) was born in Italy in 1922 and moved to Buenos Aires with his family when he was four.
From his mid-teens to early twenties, he was a trendy, popular young man who idolised Carlos Gardel and Francisco Fiorentino. Despite having had no music or vocal training, he sang regularly with neighbourhood musicians and occasionally on radio broadcasts. In time Pugliese became aware of him then eventually, heard and recruited him in 1944 as a 22 year old.
Morán achieved immediate fame with the highly regarded Pugliese orquesta, as a young, confident, good-looking vocalist, who sang sad and romantic songs with convincing emotion, unique phrasing and animated delivery. Throughout his nine years with Pugliese, the orquesta invariably enjoyed full houses with milongueras (in particular) standing in front of the orquesta to watch Morán while he was singing.
Morán provided the vocals for 54 Pugliese recordings, but over time the relationship between Pugliese and himself soured, resulting in his departure in 1954 aged 31, disillusioned with Pugliese and the financial and emotional treatment he and other vocalists had to tolerate from tango orquesta leaders.  His replacement was Jorge Maciel.
Morán remained extremely popular with the Argentinian public for the rest of his life, but his voice and his financial situation steadily deteriorated over his last 40 years before he died poor and embittered in 1997. In Morán's later years he made many negative statements about Pugliese, including that Pugliese never gave Morán any positive feedback, and that contrary to what was and has been widely recognised, during the 1944 to 1954 years Pugliese was never incarcerated; stories of incarceration being told by others as an excuse to cover his non-appearances.
The three songs I have chosen for the Tanda of the Week are the very danceable songs:
Una Vez – composed by Osvaldo Pugliese – Lyrics by Cayulo Castllo
El Abrojito – composed by Luis Bernstein – Lyrics by Jesus Fernandez Blanco
Yuyo Verde – composed by Domingo Federico – Lyrics by Homero Exposito
Noelia Hurtado and Gaston Torelli dancing to Una Vez:

Fatima Vitale and Carlos Boeri dancing to El Abrohito:

Alejandro Hermida y Ines Muzzopappa dancing to Yuyo Verde: