Tango Mahi – Tanda of the Week – Vocal tangos by Orquesta Romantica Milonguera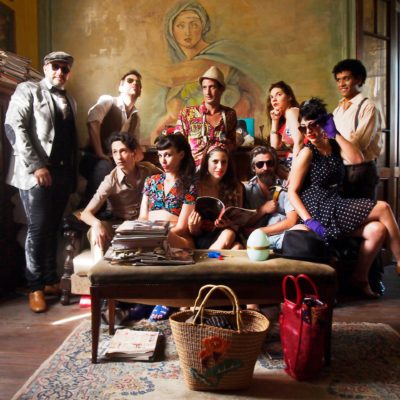 Romantica's music has so far been only covers of music of a wide variety of other bands and orquestas including Canaro, D'Arienzo, Fresedo, Donato, Tanturi, Demare and even the Beatles. The orquesta is looked down upon as being "kitsch" by those who prefer more originality, subtlety and progressiveness in their music, but is highly appreciated by tango dancers who love familiar tango dance music that is extremely well arranged and played, far better recorded than tango music recorded a half century ago, and amazingly well promoted.
Orquesta Romantica Milonguera was formed in 2015-16 by Buenos Aires-based pianist Tomas Regolo and violinist Lucas Furno.
Tomas, a trained classical pianist, took a liking to playing jazz, blues and Latin music before turning his hand to tango, and forming a tango quartet with the intention of getting gigs in Buenos Aires to earn money as a professional musician.
His first quartet gig was a 2012 concert of D'Arienzo music, for which each musician was paid 30 pesos. He then expanded to a sextet to play Tanturi music and was in due course invited to play at a Tanturi festival where he met violinist Lucas Furno and the two of them decided to set up a new orquesta which became Orquesta Romantica Milonguera.
For Romantica Milonguera's debut in March 2016 they organised their own "Fiesta de Orquestas Milongueras", with the objective of ​​establishing Romantica on the milonguero circuit. The fiesta was a success and this led to Romantica scoring gigs at major milongas around Buenos Aires including at La Viruta, Salon Canning and Villa Malcolm.
Later in 2016 they recorded an album ("Romantica Milonguera") and promoted it with very professional video clips posted to YouTube and other social media. Their recording and video of "Poema" quickly became very popular in Argentina and around the world and to date has had 3.3M YouTube views.
Since then the orquesta has made a further four albums and has toured through Argentina, other South American countries, USA, Canada, Asia and Europe with entry prices as high as US$45.
In 2019 the orquesta played at the CITA Festival and was voted "Best Tango Orchestra" by a jury composed of many of the world's most renowned tango dancers.
Over the five years of Romantica's existence, the lineup of musicians has varied greatly with only four of the ten who played in the first recordings in 2016 still in the orquesta today; namely the two directors plus vocalist Roberto Minondi and violinist Sara Ryan. The lead singer for "Poema" and other first album songs, Marisol Martinez, and her replacement Hache de Huilen (2017 – 2018) have now been replaced by Ximena Gimenez, as have the various other bass, bandoneon and violin players.
The Tanda of the Week comprises three tangos that were recorded in the Golden Age by Donato, Laurenz, Tanturi, Pugliese and D'Arienzo:
"Sin sabor" a 2016 recording featuring vocalists Marisol Martinez and Roberto Minondi
"Recien" a 2019 recording featuring vocalist Hache de Huilen
"Dime mi amor" a 2020 recording featuring vocalist Ximena Gimenez
The video I am sharing is of Hache de Huilen and the orquesta performing "Recien" on stage in Zárate, Buenos Aires in 2019: