Tango Mahi Practica – Tanda of the Week – Instrumental tangos from 1941 by Orquesta Tipica Anibal Troilo.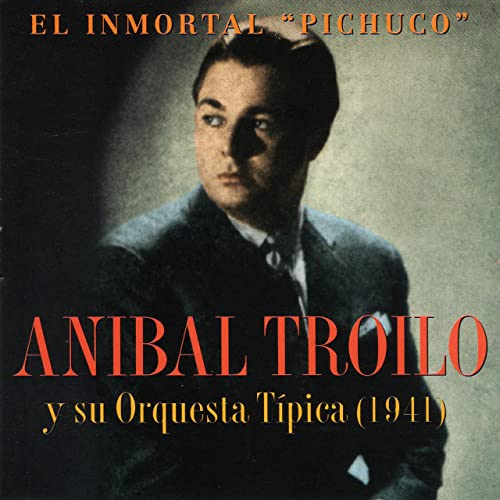 From 1930 to 1937 Anibal Troilo played in numerous orquestas. The last of these was a large line-up led by Juan Carlos Cobián for the 1937 Buenos Aires festival season. When this orquesta dis-assembled, Troilo (then aged 23) invited selected members including his friends vocalist Francisco Fiorentino and pianist Orlando Goñi, to join him in a new orquesta.
The new orquesta debuted on 1 July 1937, and quickly developed a strong following from musicians and tango dancers, as well as interest from record companies. Troilo accepted an offer for the orquesta to record with Odeon, released two instrumental tracks ("Comme il faut" and "Tinta verde") in March 1938, but then fell out with Odeon, resulting in no further recordings with the contract remaining in place.
Recording companies at the time were striving to optimise profitability from their then-most-successful contracted artists (such as Canaro for Odeon and D'Arienzo for RCA-Victor) and were known to contract other artists either to prevent them from joining rival record companies, or to ensure the new artists' releases didn't have a negative impact on the success of their best-selling artists.
Despite releasing no recordings from March 1938 to 1941, the Troilo orquesta developed into a highly innovative, creative and polished group, adopting phrasing and rhythms not previously used in tango. Dancers embraced the innovations as well as the challenges they presented.
The orquesta's success can be attributed in particular to:
Troilo's charismatic personality, his emotional openness (in life and in music), his considerable strengths as a musician and orquesta leader, and his focus on creating music for tango dancers; and
Pianist Goñi's extraordinary abilities as a musical arranger and improvisor who chose to rarely adhere to his piano charts; his contributions and importance to Troilo being on a par with those of Biagi to D'Arienzo.
There were also other notable factors including Fiorentino's qualities as a vocalist and trained musician, and the impact of the very young bandoneonist and arranger Astor Piazzolla, who constantly challenged Troilo and Goñi to take the music in new creative directions.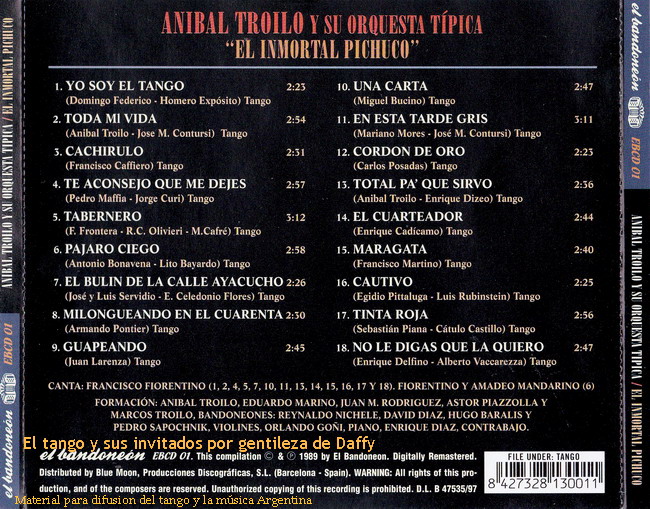 In 1941 Troilo switched from Odeon to RCA-Victor and by late 1943 had recorded and released 64 vocal tracks and 17 instrumentals before Goñi was fired because of his chronic unreliability (to be replaced by the highly talented but less creative José Basso). Vocalist Fiorentino and bandoneonist Astor Piazzolla left a few months later to form their own new orquesta.
Within two years, Goñi had died, contributed by many years of excessive alcohol and substance abuse.
The Fiorentino and Piazzolla orquesta failed to reach the popularity of Troilo's although both did extraordinarily well individually.
Troilo went on to make more than 400 further recordings with RCA-Victor and achieved well-deserved recognition as a legend of tango.
All three instrumental tangos chosen for the "Tanda of the Week" were recorded in 1941:
Cordon de oro
La Tablada
Milongueando en el cuarenta
Here are three videos of maestros dancing to the chosen instrumentals:
Chicho Frumboli and Juana Sepulvedo dancing incredibly musically to "Cordon de oro".

Sebastian Arce and Mariana Montes performing an improvised demonstration dance to "La Tablada" at the end of a workshop, in which they repeat dance sequences for repeated music phrases and vary their dancing to align with music phrases.

Choreographed performance to "Milongueando en el 40" by Austrian tango musicians and dance maestros Pablo Gomez and Ludmila Srnkova.