This week's Tango Mahi "Tanda of the Week" is of 1940s recordings by vocalist Jorge Ortiz with Orquesta Rodolfo Biagi.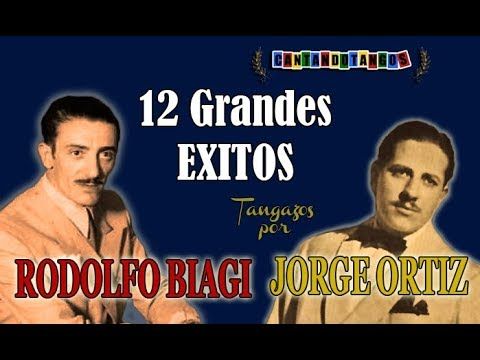 Juan Edelmiro Alessio (who became famous in the 1940s with the stage name Jorge Ortiz) was born in Buenos Aires in 1912, and as a teenager in the late 1920s and early 1930s, studied singing with then leading vocal maestro Eduardo Bonessi.
In 1933 at age 21, Alessio won a Buenos Aires radio competition that he and fellow students had been entered in by Bonessi, with his prize being a contract for ongoing radio appearances. His radio work led to live singing opportunities with various musicians and groups before he was recruited in 1935 as one of several vocalists in Edgardo Donato's orquesta.
His recruitment coincided with the Donato orquesta being cast to be featured in the early tango movie "Picaflor", resulting in Alessio singing the title song in the movie, and being the vocalist for six other Donato recordings. Soon after the movie and recordings, the record company RCA Victor ran a major festival celebrating an anniversary of Argentina's 1810 Revolution and chose the Donato orquesta with Alessio on vocals, and three of RCA Victor's other most recognised groups to be the headline acts. The other three headliners were:
• Osvaldo Fresedo with Roberto Ray
• Juan D'Arienzo with Walter Cabral
• Francisco Lomuto with Jorge Omar
Within less than a year of Alessio's arrival, Donato was favouring the vocals of Horacio Lagos for recordings over those of Alessio, and this resulted in the latter leaving to sing with other emerging, lesser known orquestas through the latter 1930s. It was with one of these orquestas that Alessio adopted the stage name Jorge Ortiz.
In 1940 Rodolfo Biagi recruited Ortiz to replace the singer Andrés Falgás, and for the next three years Ortiz and the Biagi Orquesta achieved incredible popularity and success, with the emotion of Ortiz's vocals and the rhythms and syncopations of Biagi's piano playing and arrangements becoming universally recognised.
From 1940 to 1943 they released 29 recordings including "Humillación", "Por un beso de amor", "Misa de once", "Zaraza", "Carillón de La Merced" and "Indiferencia" generating huge revenues for Odeon, and to a lesser extent Ortiz and the other orquesta members. Biagi would also have enjoyed great ongoing royalty payments as composer of two of the biggest hits; "Humillacion" and "Indiferencia".
In 1943 Miguel Caló enticed Ortiz to move to his orquesta but his stay lasted only six months, after which he moved to Brazil, from where he toured through Venezuela and Chile, before returning to Buenos Aires to rejoin Biagi in January 1945.
Through 1945 and 1946 the Biagi orquesta released a further eight recordings with Ortiz on vocals, including hits "Yuyo verde" and Biagi's composition "Magdala" before Ortiz again departed.
After singing for two years with various other Buenos Aires groups, in 1948 at the age of 36 Ortiz moved permanently to Brazil. From this base he made frequent tours and enjoyed great popularity throughout South America including Argentina until his death in 1989 at the age of 77.
The recordings I have chosen for the Tanda of the Week are:
• Indiferencia
• Zaraza
• Carillon de la Merced
Frank Obregon y Jenny Gil dancing to "Indiferencia"
Maja Petrović & Marko Miljević dancing to "Carillón de la Merced"