Tango Mahi "Tanda of the Week" – Instrumental tangos by El Cachivache Orkesta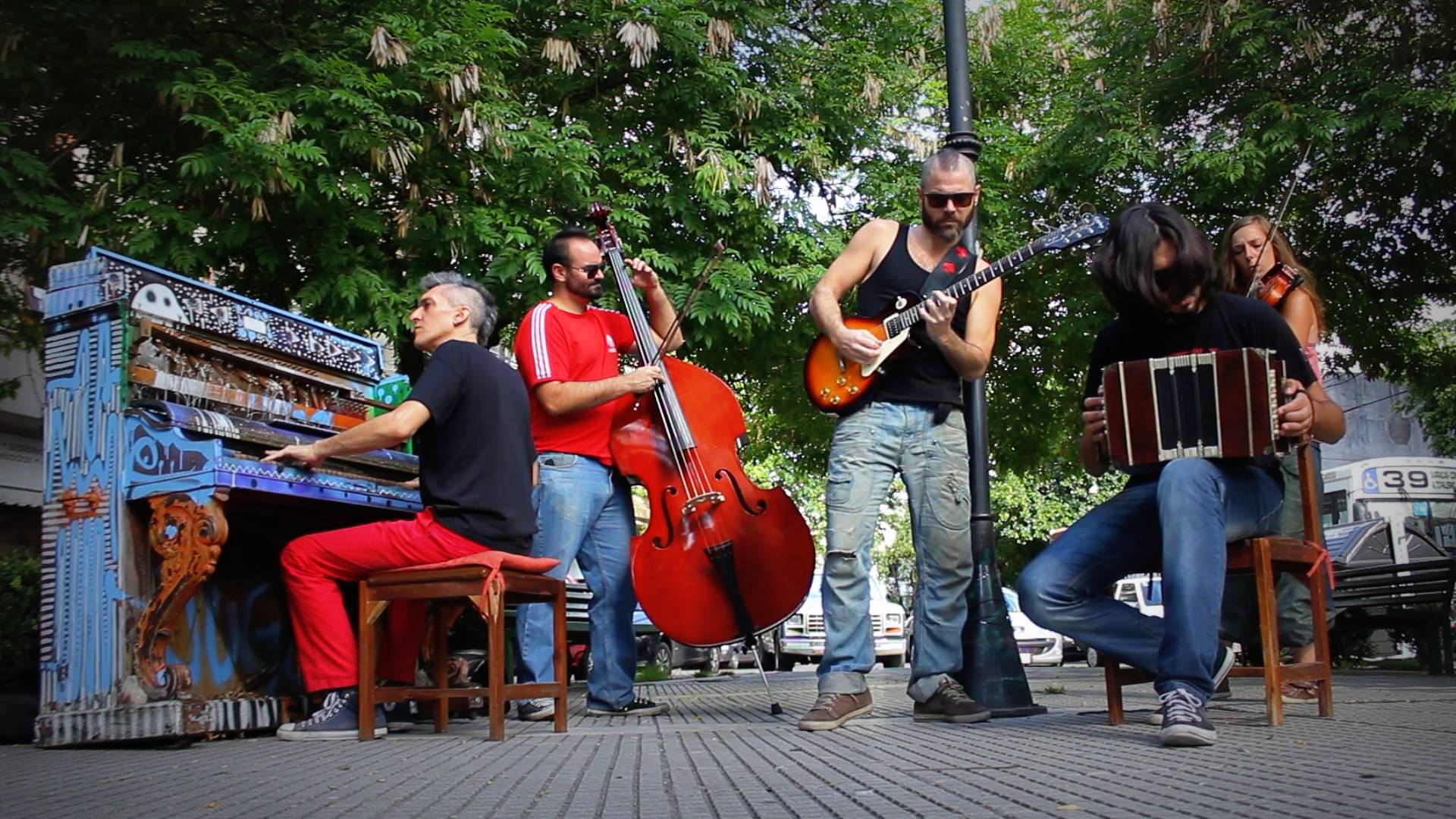 El Cachivache is a contemporary tango group that in recent years has performed as a guitar, bandoneon, violin, piano and bass quintet.
The group was set up by rock and jazz guitarist Vito Venturino in 2008 and since then the orquesta has evolved to become one of the most popular live tango bands in Buenos Aires.
In recent years they have toured internationally (including to perform at WOMEX19 in Finland in 2019), released eight albums and numerous creative videos featuring many of Argentina's best dancers (including Noelia Hurtado y Carlitos Espinoza, Bruno Tombari y Rocio Lequio, Gloria y Eduardo Arquimbau, and Mariana Dragone y Gaston Torelli).
The orkesta members are accomplished multi-genre musicians who present themselves as humorous and fun-loving performers, as well as players of sometimes smooth and subtle, and sometimes powerful and driving, traditional and contemporary tango dance music. Their "punk" hairstyles and dress, are adopted by them as a unique trademark.
They list influencers of their music as being Anibal Troilo, Astor Piazzolla, Osvaldo Pugliese, Hugo Diaz, Quinteto Real, Carlos Di Sarli and Juan D'Arienzo.
On 24-25 April, El Cachivache is performing on a YouTube livestream from La Viruta featuring dancers Pablo Rodriguez y Maria Dragone:
The tangos I have chosen for the tanda, are all beautifully played and recorded instrumental versions of well-known vocal tangos by the Fresedo, Di Sarli and Tanturi orquestas:
Buscandote
Junto a Tu Corozon
Oigo Tu Voz
A variety of fun videos can be viewed on the El Cachivache Orkesta YouTube Channel including this 2015 YouTube video of very young Noelia Hurtado and Carlitos Espinoza dancing to El Cachivache's "Montán" at La Glorieta:
Also included is this YouTube clip of milongueros social dancing to a live performance of "Buscandote" at the 2019 De la Noche Tango Festival in the Netherlands: