This week's Tango Mahi "Tanda of the Week" is of valses by Orquesta Tipica Andariega.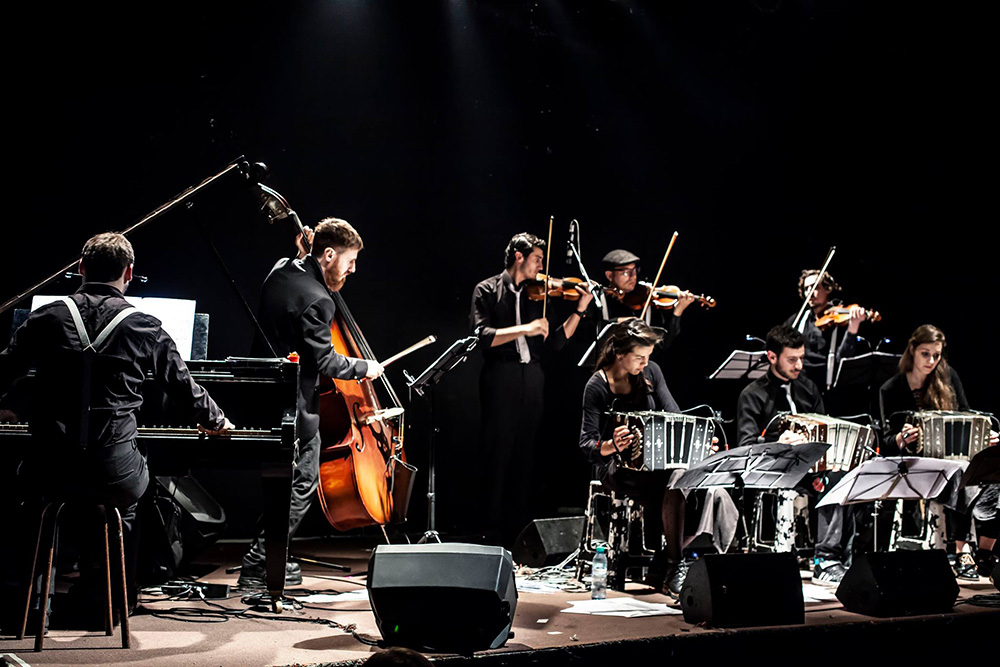 After moving to Buenos Aires, in 2009 Italian bass player Luigi Coviello recruited a number of very good young musicians and formed a new orquesta, which he named La Orquesta Tipica Andariega, then wrote and rehearsed arrangements of tango music for tango dancers. The line up of musicians was the typical tango one of 3 bandoneons, 3 violins, piano and Luigi on bass, plus vocalist Fabián Villalón.
During their first year they recorded their first album "Pertenencia", and ran their own regular Sunday milongas in San Telmo, established strong support from members of the Buenos Aires tango community, and achieved interest beyond Buenos Aires; particularly from tangueros in Europe, where Luigi already had a profile before moving to Argentina as did Danish bandoneon player Stine Helkjaer.
Over the decade through till Covid, Stine and Luigi organised numerous tours for the full orquesta and for a sextet (being a subset of the full orquesta), to cities throughout Europe performing at tango festivals, milongas and in well-known theatres.
The orquesta released further albums in 2014, 2017 and 2019, with Martin Sus joining Fabian as a second vocalist on the 2014 album "Andiamo", and Walter Chino Laborde as vocalist for the 2017 album "Balliamo".
For the 2019 album "Avanti" the orquesta recruited vocalist Marisol Martinez, who had just left Orquesta Romantica to pusue a solo vocal career. For the recording the orquesta was also expanded by increasing the violin section from three to six, and adding a viola.
Orquesta Andariega plays a lot of music that was popular during the Golden Age tango years of the 1930s and 1940s, including music by Fresedo, Di Sarli and Pugliese, reinterpreted and rearranged by Luigi to give it a more contemporary feel in a much more subtle and creative way than the contemporary orquestas such as Orquesta Romantica, that stick largely to the Golden Age arrangements but with more power and better recording fidelity.
In their albums, Andariega have recorded only three valses, all composed by Luigi, and these have been chosen for this week's Tanda of the Week. The first "Gira Gira" and the third "Lontano" are sung by Fabian Villalón and Martin Sus (respectively) but have a lot in common as they are in the same key, have similar introductions and are of similar tempos. Because of this, I have separated them with "Buonasera", also sung by Fabian Villalón.
Below are YouTube clips of the three valses:
Promotion of "Gira Gira" by the Orquesta
Dancing to "Buonasera" by German Felipe & Kelly Poon in Auckland
Orquesta playing "Lontano" live at a milonga