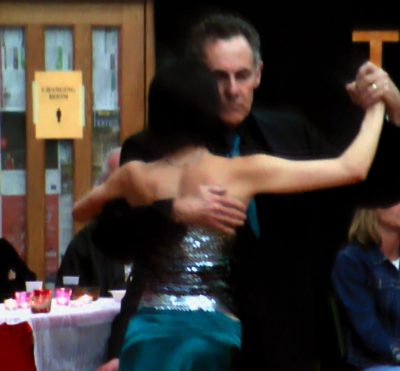 I started learning tango about 15 years ago and I am still learning. I love both the dance and the music. My favourite tango move is just walking. My favourite couple are Adrian and Amanda Costa – their elegance and musicality are irresistible. My favourite orquestas are d'Agostino and Biagi. And my favourite partner is……hmm.
Learning tango is much like learning a language. It takes a long time and a lot of practice even to become fluent, and writing poetry takes a very long time. As well as learning the vocab, you need to learn the grammar and customs as well. And the best way to learn is by putting it into practice.
While all this is true for tango as well, of course its essential elements are different: they are technique, sequences, musicality, floor-craft and connection with your partner. A competent dancer must be proficient in all of these so it helps to learn them all together and learn them well. So that is how I try to teach.
Private lessons by arrangement.
Please email tangojackson@gmail.com
Peter
Home (64) 9 428 7059
Mobile (bad reception) (64) 21 482 646