Hi amigos tangueros!
Sorry to advise that the 2021 Festival has had to be cancelled because of COVID. It will now be held in 2022 on dates to be advised.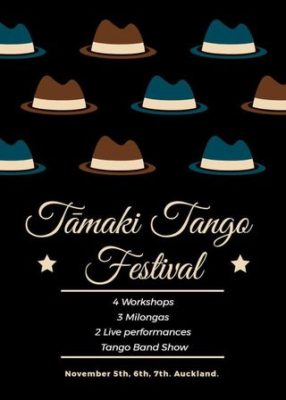 I'm glad to invite you all to the Tamaki Tango Festival!
A project that we've been thinking and working on with Ernesto for a while and now it's become real!
November 5th, 6th and 7th. Workshops, milongas, performances, Argentinian food and a live tango band! All here in Auckland!
Registrations are open – there are limited spaces for workshops so please register asap – we're expecting people coming from all over New Zealand and Australia as well!
Let's enjoy our local maestros and artists and show the world how lucky we are here in New Zealand dancing tango and being part of events like this one!
Don't hesitate in contact us if you have any queries:
@tamakitangofestival in Facebook or tamakitangofestival@hotmail.com or talk to me or to Ernesto at anytime!
Marta
😀
Click here for –